Pikipedia
:
Forums
Jump to navigation
Jump to search
Pikipedia has forums for wiki-related discussion. While these forums are rarely used now in favor of the Discord server, they are still available for talking about Pikipedia.
The forums are divided into 2 sections: the help desk and the Watercooler. The help desk can be used to ask for wiki-related help, while the Watercooler can be used for general discussion about Pikipedia and its running.
To create a topic at either of the sections, type the name of it into the "Add New Topic" box and click "Add New Topic". From there, enter your comment, sign it with ~~~ or ~~~~ and press "Save" at the bottom of the page. Forum pages work like normal talk pages, so the talk page policy applies.
Other forums
[
edit
]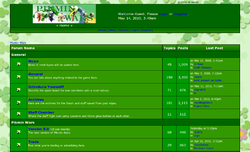 For non-wiki-related discussion about the Pikmin series, various other unofficial forums are available.
r/Pikmin: The Pikmin subreddit on reddit, an active place for discussing the series.
GameFAQs: Mostly inactive GameFAQs boards for the three main games.
Pikipedia Forums: Inactive general-purpose Pikmin forums created by Pikipedia.
NIWA's Pikmin board: An inactive board on the Nintendo Independent Wiki Alliance forums.
Neoseeker: Inactive Neoseeker boards for the three main games.
Olimar's Rescue: A long-inactive Pikmin role-playing forum.
See also
[
edit
]