User:Pooglefamily
Jump to navigation
Jump to search
Hey everybody! It's me! Pooglefamily! I will update this page regularly. I also have an account on mariowiki. I am under the same name over there
a yellow poogle.

Me

Stuff about me
Real Name:Nice Try |Age:10 |Gender:Male |Favorite Website:MarioWiki, Pikmin Wiki, Neopets |Gender:Boy |Favorite Video Games:Anything Pikmin/Mario
My fav enemies
Gooper Blooper is number 10!
Next is number 9 dry bones!
Fly Guys come in number 8!
Breadbugs rule! 7!
When I said breadbugs rocked....6!
Pathetic and funny! 5!
Hilarious! A great sense of humor. 4!
WICKED 3
Awesome! 2!
King Boo is awesome! 1!
My Gallery of stuff.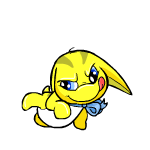 Me as a baby

Cute things
Stuff about me
I have pikmin 1 and 2.
I am not very good at either.
I still like them though.
Every time I try to make an account on Fantendo, it bails on me.
I have a friend that has the same name as me. (Real name, not account name)
He thinks yellow look weird.
I am terrible at getting purples.
If you want to be friends.....um.....who we talkin' about?
I'm a boy.
I'm a boy.
I'm a boy.
ZZZZ...what...huh?
RANDOM
WARNING. THE FOLLOWNING MATERIAL CONTAINS EXTREMELY RANDOM THINGS. IF YOU WANT TO BE SAFE, RUN UNDER YOUR BED, GRAB A BLANKET, HIDE UNDER IT, AND SAY MOMEEEEEEEEEE.
I HAVE AWESOMENESSSSSS!
Momeeeeeeee-uh...um...I mean....NOW I HAVE FURY!

STUFF
| Name | Type |
| --- | --- |
| Bulbasaur | Grass |
| Charmander | Fire |
| Squirtle | Water |
| Pikachu | Electric |
My sig-Pooglefamily-