Namida Ga Afureta
Jump to navigation
Jump to search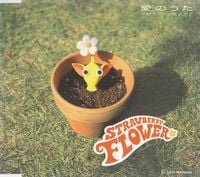 Namida Ga Afureta ("The Tears Overflowed") is a relatively rare piece of music that serves as the B-side of the single Ai no Uta by Strawberry Flower. While the lyrics to Ai no Uta focused primarily on the Pikmin and their conveyance of unconditional love toward Captain Olimar during his quest to return home, Namida Ga Afureta is phrased more from Olimar's perspective of the Pikmin as well as how he feels about them - which in turn seems difficult for him to express. In this song, the sorrowful space captain deeply regrets never telling the Pikmin that he loved them before departing back to his home planet of Hocotate.
To do: The Hiragana version of the second line of the chorus is misspelled. It is unknown whether this is an error from Nintendo's official lyrics, or from an editor. We should double-check this before trying to fix it.
Care to do so?
The following article or section needs help from someone who can translate Japanese text.
Some notes: Confirm the Japanese lyrics.
Japanese (Hiragana)
[
edit
]
なみだ が あふれた
なみだ が あふれた

きみ の こと
すき と いえず に
ごめん

よぞら が にじんだ
よぞら が にじんだ

きみ の こと
すき と いえず に
ごめん

むずかしい ことば なら かんがえ つく けど
たやすい ことば な の ほう が いえない て おもう

ためいき を ついた
ためいき を ついた

きみ の こと
すき と いえず に
ごめん

ほしくず が おちた
ほしくず が おちた

きみ の こと
すき と いえず に
ごめん

むずかしい ことば なら かんがえ つく けど
たやすい ことば な の ほう が いえない て おもう

なみだ が あふれた
なみだ が あふれた
なみだ が あふれた
なみだ が あふれた

こんな こと も いえない で
ごめん
Japanese (Romaji)
[
edit
]

Namida ga afureta
Namida ga afureta
Kimi no koto suki to iezu ni
Gomen

Yozora ga nijinda
Yozora ga nijinda
Kimi no koto suki to iezu ni
Gomen

muzukashii kotoba nara kangae tsuku kedo
Tayasui kotoba no hou ga ienai tte omou

Tameiki wo tsuita
Tameiki wo tsuita
Kimi no koto suki to iezu ni
Gomen

Hoshikuzu ga ochita
Hoshikuzu ga ochita
Kimi no koto suki to iezu ni
Gomen

Muzukashii kotoba nara kangae tsuku kedo
Tayasui kotoba no hou ga ienai tte omou

Namida ga afureta
Namida ga afureta
Namida ga afureta
Namida ga afureta

Konna koto mo ienai de
Gomen

English translation
[
edit
]
The tears overflowed
The tears overflowed
And I didn't say that I loved you
I'm sorry

The starry sky blurred
The starry sky blurred
And I didn't say that I loved you
I'm sorry

I can come up with complex words
But I don't think that I can even say simple ones

I let out a sigh
I let out a sigh
And I didn't say that I loved you
I'm sorry

Stardust fell
Stardust fell
And I didn't say that I loved you
I'm sorry

I can come up with complex words
But I don't think that I can even say simple ones

The tears overflowed
The tears overflowed
The tears overflowed
The tears overflowed

I'm sorry for
Not saying something like this
See also
[
edit
]