Tane no Uta
Jump to navigation
Jump to search
Tane no Uta
Artist
Strawberry Flower
Native title
種のうた
Single #
3
Released on
May 19th, 2004
Genre
J-Pop
Length
2:00
Awards
Oricon Top 200 Weekly Peak: #28
RIAJ Certification: Double Platinum
Sales
15,389 copies
Strawberry Flower single chronology
Previous
Pikmin Dance
Next
None
Like Ai no Uta, Tane no Uta (種のうた?, lit.: "Song of Seed") was used in the Japanese advertisements, specifically those for Pikmin 2. The song can also be partially heard in some games. Oddly enough, the CD of Tane no Uta comes with CD Extra capabilities. There is actually a TV commercial present on the disc when booted on a computer.[1]
In games
[
edit
]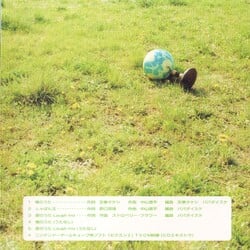 Japanese (Romaji)
[
edit
]
Aka pikumin wa hi ni tsuyoi
Ao pikumin wa oborenai
Kii pikumin wa takaku tobu
Murasaki pikumin chikara mochi
Shiro pikumin niwa...
doku ga aru
Kosei ga iroiro ikite iru yo

Atama no teppen me wo dashite
Sono me ga happa ni sodattara
Sono ha wa tsubomi ni chijikomari
Sono tsubomi kara hana saita
Minna atsumatte...
kirei deshou
Kosei wa iroiro sakasemashou

Akai yuuhi go moeteru
Aoi umi kara kao dashite
Kiiroi hoshi ga umaretara
Murasaki iro no yoake kara
Shiroi ichinichi ga...
hajimaru yo
Kosei ga iroiro utsukushii ne
English (roughly translated)
[
edit
]
A Red Pikmin is fire resistant
A Blue Pikmin doesn't drown
A Yellow Pikmin jumps high
A Purple Pikmin is strong
A White Pikmin...
contains poison
(They) live with all kinds of personalities

From the top of the head comes a sprout
From that sprout a leaf grows
From that leaf a bud appears
From that bud a flower blooms
When everyone gathers around...
isn't it beautiful?
Let's bloom all kinds of personalities

The red sunset is burning
Showing itself from the blue ocean
When the yellow stars are born
From the purple dawn
The white day...
has begun
Aren't the different kinds of personalities beautiful?
References
[
edit
]
^ YouTube video of the unique Tane no Uta commercial, published on August 30th, 2019, retrieved on August 30th, 2019
^ Pikmin 1 + 2 game page on the Nintendo Australian website, retrieved on November 9th, 2023