Nintendo GameCube
Jump to navigation
Jump to search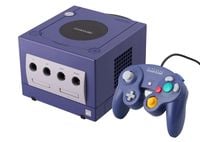 This article or section is a short summary on Nintendo GameCube.
NintendoWiki features more in-depth content.
The Nintendo GameCube (ニンテンドーゲームキューブ?) is the home console for which Pikmin and Pikmin 2 have been released. The two games have been released in 2001 and 2004 respectively. The console was released on September 14th, 2001 in Japan, November 18th, 2001 in North America, May 3rd, 2002 in Europe, and May 17th, 2002 in Australia, and has sold over 21.74 million units worldwide[1]. The console's successor, the Wii, can also play GameCube games, and is the console for the re-releases of the Pikmin games in the New Play Control! range. The GameCube's controller consists of 6 buttons, 2 analog triggers, 2 analog sticks and the D-Pad. Super Smash Bros. Melee, a game in the Super Smash Bros. series was also released for the GameCube, and makes references to Pikmin. In 2004, a tie-in bundle console was released in Japan for Pikmin 2.
History
[
edit
]
Before being released in Japan, the GameCube's codename was "Dolphin". Due to this, some of the console's games have a reference to the codename, via an illustration or just a name. In Pikmin's case, it is the name of the ship, the S.S. Dolphin.
Memory Card
[
edit
]
There are three official GameCube memory card varieties:
59 blocks (gray)
251 blocks (black)
1019 blocks (white)
In the Pikmin series, the first game requires 19 blocks, and the sequel 27.
Gallery
[
edit
]
External links
[
edit
]
References
[
edit
]