Wii U
Jump to navigation
Jump to search
This article or section is in need of more images. Particularly:
Some images to go along with the Pikmin content section, as well as some more general Wii U images in the gallery.
You can help Pikipedia by uploading some images.
This article or section is a short summary on Wii U.
NintendoWiki features more in-depth content.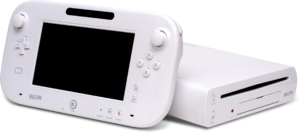 The Wii U is Nintendo's seventh home console – and the successor of the Wii – released on November 18th in North America, November 30th in Europe and Australia, and December 8th, 2012 in Japan. The primary feature of the Wii U is the Wii U GamePad, which has a 6.2-inch touchscreen. This screen can be used to provide different views into the game's world, and titles featuring Off-TV Play can be displayed entirely on it, leaving the television free to be used for something else while gaming.
The GamePad has the buttons of a standard controller, with dual analog sticks, triggers and D-pad, plus a front facing camera, microphone, Near Field Communication capability, gyroscope and accelerometer. It is able to function as a universal TV remote control that does not require the Wii U to be turned on.
The Wii U is backwards compatible with Wii software and controllers, meaning Wii games such as the New Play Control! versions of Pikmin and Pikmin 2 can be played on the Wii U. In addition, some games require the use of a Wii Remote, even if only for the additional players.
Aside from its unique controller, it also has a secondary controller (sold separately) called the Wii U Pro Controller. This controller features the same button layout as the GamePad, but on a more compact design with no touchscreen, for use by the more serious gamers. The GameCube controller can also be used with purchase of an adapter, though the only title to support it is Super Smash Bros. for Wii U.
Pikmin content

[

edit

]
Pikmin 3

[

edit

]
The third installment in the Pikmin series, Pikmin 3, was released on the Wii U in 2013. This game features two new types of Pikmin, a new story involving new characters, and usage of the Wii U GamePad for efficiency. Pikmin 3 can be purchased as a retail game or downloaded digitally from the Nintendo eShop.
Nintendo Land

[

edit

]
Nintendo Land is a launch title for the Wii U, and showcases the use of the Wii U GamePad using different Nintendo IPs in games. A Pikmin game exists, known as Pikmin Adventure, where players, consisting of one captain akin to Olimar and up to 4 other Pikmin as playable characters, traverse through levels, defeating robotic variants of standard Pikmin enemies.
Pikmin Short Movies

[

edit

]
The Pikmin Short Movies are short films which showcase close up interactions of Pikmin with each other and everyday objects. They were released on both Nintendo 3DS and Wii U. On the 3DS, movies can be played in 3D, while on the Wii U, they are played in HD. They were available for purchase on the Nintendo eShop until October 8th, 2020, after which the app was removed, and the videos were uploaded to Nintendo's YouTube channel a day later.
eShop re-releases
[
edit
]
While not directly a Pikmin game, Super Smash Bros. for Wii U features some Pikmin content and is on the Wii U.
When transferring data from Wii to Wii U, Pikmin are seen "carrying" the data over to a ship, which then "flies" to the Wii U. The Pikmin then carry data over to the Wii U system.
Miiverse
[
edit
]
Miiverse was a form of social media built into the console itself. Players could join communities for games, post screenshots and drawings, and even participate in contests on Miiverse. Before its shutdown, there were two Pikmin related communities on the Wii U's Miiverse catalog: "Pikmin 3", which was used to share about the game itself and the Pikmin Short Movies, and "Pikmin 3: Developers' Room", where Miyamoto and other developers released information on Pikmin 3, such as downloadable content packs. Interviews with Miyamoto and contests were also announced here. Miiverse was also available for the Nintendo 3DS.
Gallery
[
edit
]
External links
[
edit
]