User
:
Joshazilla23
Jump to navigation
Jump to search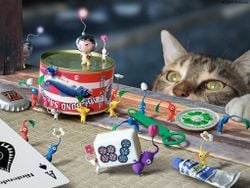 About me
My name is Joshua, but I prefer Josh, I come from the PAL regions (UK). My Pikmin 3 ideas related to: Pikmin, Enemies, Hazards and Sprays are here. Pikmin 3 Area/Plot ideas; here.
I'm a massive fan of art and video games, and do both in my spare time, I have an intrest in japanese culture and can speak some as well along with french and a bit of spanish. I also like astronomy, such as outer space and class myself as a amateur astronomer. I did a IQ on the internet and it said I have an IQ of 121.
To-Do's
Edit more in the mainspace.
Improve ship part articles.
Become more active on this wikia.
Become good at SSBB.
Poll
<youtube width="330" height="330">XPhCkFr013I</youtube> <poll> So, how many Dwarf Red Bulborbs are there? 30-40 41-50 61 and over ?? (Uncountable) </poll>
Other...
Thanks to User:Crystal lucario for making my sig and User:Snakeboss14 for my friend userbox!
Put
Sarcastic RWAR..

This user is a friend of Joshazilla.
if you are my friend
Brawl wise i'll happily brawl anyone, im not that good, and I played it was over 6 months ago, so... Im more active 3-7:00pm UK time, which is around 10-11:00am/12:00pm for NA. So americans, I can't brawl in you're afternoon, as it's my night for me and that's the same the other way around. My friend code is in the userbox section; if you have brawl use this to display you're code and mains.
Sigs
Userboxes
| | |
| --- | --- |
| AD | This user is addicted to Pikipedia, dammit! |
| | |
| --- | --- |
| | This user can speak fluent L33t. |
| | |
| --- | --- |
| [[File:215616.gif|55px]] | This user is allergic to stupidity, unfortuantly is thusly allergic to n00bs. |
| | |
| --- | --- |
| | This user has no idea how Wario is capable of running. |