Pikipedia
:
About
Jump to navigation
Jump to search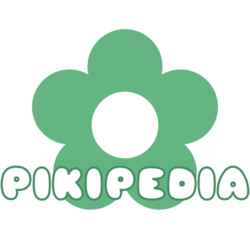 Pikipedia is a wiki all about the Pikmin series, written by fans, for fans. It contains 1,865 articles covering a wide range of topics. Its name is a portmanteau of "Pikmin" and "Wikipedia". Being a wiki, the site is free to use and edit – anyone can improve articles with the "edit" button at the top of pages, or by suggesting improvements on talk pages. Other ways to get involved with the wiki include creating or participating in topics at the forum, and chatting in the Discord channel. Pikipedia is hosted by Porplemontage, and Espyo is the de facto editor-in-chief.
Goal
The goal of Pikipedia is to provide an extensive and accurate encyclopedia on everything related to the Pikmin franchise, for new players and veteran players alike. Wherever possible, the information covers a wide range of accessibility levels, from the basic outlines of a subject to the technical aspects of a game's inner workings. The content is aimed at people in all age ranges and skill levels.
Given that Pikipedia is community-driven, pleasing the community is also a large part of the overall goals. While the content on the pages aims to be clear, direct, and professional, several features provide tools for community members to relax and interact among themselves.
History
Pikipedia was created on December 3rd, 2005 by Dark Lord Revan at Wikia (now called Fandom). It slowly grew over the years, becoming a popular website on the franchise. However, in October of 2010, a major global website layout change was enforced onto all Wikia wikis, and this change was received poorly by most editors. Some wikis moved to independent domains, such as most of NIWA. The Pikmin Wiki followed suit, and became independent at pikminwiki.com on September 14th, 2010. This move occurred through users of Pikcanon-NOT, the fanon wiki now known as Pikmin Fanon, who made an offer to Pikipedia to move to their new domain as well. All the information was moved to Pikipedia, but the old wiki still remained on Wikia, being renamed to Pikmin Wiki a year after.
During the period after the split, Pikipedia continued to develop, while the Pikmin Wiki on Wikia became devoid of action and outdated, but still remained on top of most search results. When Pikmin 3 was announced, however, the old wiki received most of the attention from the influx of new editors, while existing editors were mainly still using Pikipedia. By 2012, two barebones wikis existed: Pikipedia, which had quality content and information, but was lacking in Pikmin 3 info due to having so few editors, and the Pikmin Wiki on Wikia, which had more Pikmin 3 content, but was lacking in quality and accuracy. The different editorial styles of the two wikis contributed to a sense of division between them.
In July of 2014, users of the Pikmin Wiki on Wikia approached Pikipedia, in an attempt to discuss the future of both wikis. After exchanging ideas, both parties came to the conclusion that it would be in everybody's best interest if the wikis combined at the Pikipedia site, leaving Wikia behind once again. A merging process took place where information on the wikis was combined, and when that was done, the community was once again united. While the old Pikmin Wiki still exists at Fandom (Wikia's most recent name), it is mostly abandoned, and should be ignored.
Since the merge, Pikipedia has continued to develop remarkably. There has been a greater coverage of technical information and topics outside of the main Pikmin games, and information on Hey! Pikmin and Pikmin 3 Deluxe has been successfully documented. The wiki celebrated its tenth anniversary as an independent site on September 14th, 2020 with a new visual theme.
On July 15th, 2023, Pikipedia and the Italian Pikipedia wiki partnered up.
Editing
Anyone can edit Pikipedia, and doing so is encouraged to make the wiki a better source of Pikmin information. If you need help with editing, various help pages exist, especially the helping out page and the introduction to editing a wiki. It's recommended to read some of the policies and guidelines if you want to make some larger edits. Any questions not answered in the help pages can be asked in the Discord channel or help desk.
NIWA
NIWA, which stands for Nintendo Independent Wiki Alliance, is a family of independent wikis mostly based on Nintendo franchises. It was created with the purpose of providing a union to wikis that chose to abandon their old wiki farms. For more information about the wikis in the NIWA, see the official website. A list of NIWA wikis is below.



NIWA

is a family of open-content encyclopedias based on Nintendo franchises.
Other information
Scripts
Besides gadgets and extensions, the wiki currently has two plain JavaScript scripts installed:
Pikan – adds a tool above the textbox when editing a page that analyzes the page's code and reports problems. These range from style issues to policy problems.
PikipediaUpload – customizes the file upload page to make the upload process friendlier and make it easier to follow the wiki's file policies.
Logo history
The following is a listing of Pikipedia's logos, sorted by creation date, most current to oldest.
Italian wiki
As mentioned above, Pikipedia is partnered with the Italian wiki. What this means is that if you're reading an article here, and it has been set up accordingly, you will be able to find a link directly to the Italian Pikipedia's version of the page. Likewise, while browsing the Italian wiki, you should find a link to the same subject on the English wiki.
On desktop, you can find it under the left sidebar's "In other languages" section. On mobile, there should be a "文A" button at the top of the article, or a "Aあ" button if you're using the Timeless skin.