User talk
:
PikFan23
Jump to navigation
Jump to search
Welcome
[
edit
]
Hello, PikFan23, and welcome to Pikipedia, a wiki with information regarding Pikmin. The administration thanks you for registering, and has provided some useful links to help familiarize yourself with rules, regulations and other such facilities. We hope you like the place and decide to stay.
Pikipedia pages:
Wikipedia pages:
OK, thanks.
PikminFanatic23 00:39, 6 March 2011 (EST)PikminFanatic23PikminFanatic23 00:39, 6 March 2011 (EST)
Acting Up Again
[
edit
]
Remember that crazy guy you banned? Yeah, he's back. You're the only person with banning powers online currently, so as Espyo said on his talk page, a month's ban would be most appropriate. -Los Plagas
Yes Pikmin 3 is a little cartoonish, But the Pikmin's textures are much more realistic than in pikmin 1 and 2. i also think the scenery in Pikmin 3 is a little more realistic than in the older Pikmin games, though your thought about the Pikmin 3 Onion Is correct, i still think the onions in Pikmin 1 & 2 are better, and i would kinda like 5 onions in the landing site, i think it would be pretty cool. thank you for your time, DonoPik (talk) 12:53, 2 September 2013 (EDT)
Heh heh...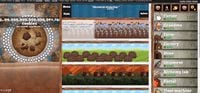 I've been playing ever since you introduced me.... I CAN'T STOP. -Los Plagas
Re: Welcome!
[
edit
]
Thank you! I will keep those tips in mind.

I'm Peach Bulborb , and I approve all Grub-Dogs! 11:12, 22 November 2013 (EST)