Talk:Bomb rock
Jump to navigation
Jump to search
Should this page be moved to Bomb-Rock? --Yoshi626

22:44, 21 January 2007 (UTC)
No, It actually should be moved to Bomb rock because I beleive that's what they are called in the game.Mariomaster 00:54, 3 January 2008 (UTC)
Really? I haven't got Pikmin 1, so I'll let someone else move the page. (Are they named in Pikmin 2? If so, I missed it...) If that's what they're called in-game, though, it should be done. GP
No, they're not named in Pikmin 2. And I think it has been done.Pikdude 15:55, 4 January 2008 (UTC)
Er, actually, I just recently got Pikmin 1. They're called "bomb-rocks," both in the manual and in the game. —Jimbo Jambo
I find it a lot easier to type "Bomb rock" than "Bomb-rock".Pikdude

00:38, 17 January 2008 (UTC)
graphics
[
edit
]
have the bomb rocks gotten more 'cartoonish' in pikmin 2, or is it just me?
hey purpel people (or red, blue, yellow, or white :) ) doy yous guys thinks we should move this to the seprate game rocks for each?Rocky0718 21:22, 25 May 2008 (UTC)rocky0718Rocky0718 21:22, 25 May 2008 (UTC)
Hmmmmm... bomb rockz...Err...Good Point?...I think... ~Crystal

Lucario~ 18:22, 26 May 2008 (UTC)
Locations
[
edit
]
Should I make a list of the bombrocks' location in each area?

Snakeboss14

Minor Glitch
[
edit
]
I don't think it's a minor glitch. It's just done so the Mitite isn't crushed, probably. Do you know if it happens with other enemies?

Snakeboss14

In Pikmin 3?

[

edit

]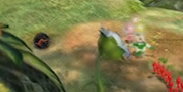 In a video on the Japanese Pikmin 3 website (see Talk:Flighty Joustmite for the source), there's a clip that shows a bomb rock in it. Is that enough to confirm them for Pikmin 3 and edit the bomb rock page?
Just to add, it looks as though they're a carriable item again. There size is about the same is in Pikmin 1 and it's just laying there above ground. No inactive bomb rocks were above ground in Pikmin 2. Not saying that is confirmed, it just seems as they're regaining their Pikmin 1 ability. StuperStar (talk) 18:37, June 7, 2013 (UTC)
YESHIKNEWICOULDTRUSTSHIGERU BruisingPikmin (talk) 21:59, June 7, 2013 (UTC)