Series
Jump to navigation
Jump to search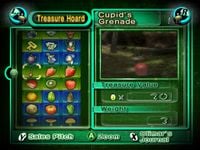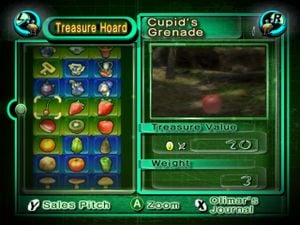 This article is about treasures. For the Pikmin franchise, see Pikmin series.
In Pikmin 2 and Pikmin 4, treasures are grouped into series. Each treasure in a series is related to the others in that series in some way. For example, the Joy Receptacle, Danger Chime and Spouse Alert are all in the Frigid Series because they all are found in an icy cavern and sport a Christmas theme.
In Pikmin 2

[

edit

]
There are a total of 26 series across the three versions of the game, though each version has a slightly different selection, and some treasures are in different series in different versions.
Once all the treasures in a series have been collected, the player can enter the Treasure Hoard, and the Hocotate ship will announce that that series has been completed (with a different announcement for each series) and will then create a sales pitch for each of the treasures in it. This can happen for more than one series at a time. (However, if the player enters the Treasure Hoard on a day after they have completed a series, and they have also collected any other treasures in the meantime, the Hocotate ship will not give the announcement.) In the Treasure Hoard, each series has its treasures' icons with a blue or green background, with the colors alternating throughout the list.
The following is a list of all treasure series.
In Pikmin 4

[

edit

]
In Pikmin 4, the player will be told when they have completed a set via a notification and on the end-of-day summary screen. A Sparklium bonus is given for the completed set, and all of the treasures in the set can be viewed together in the Treasure Catalog – some treasures get combined together to show something, like all pieces of a puzzle being combined to show the final solved puzzle.
The following is a list of all treasure series. "Types" indicates how many distinct objects are in that series, and "total" indicates how many objects exist in the game, which includes multiple copies of the same object.
See also
[
edit
]