Brawl Yard
From Pikipedia, the Pikmin wiki
Jump to navigation
Jump to search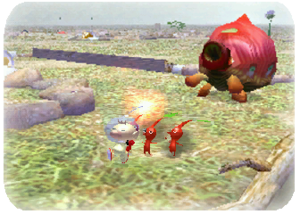 Brawl Yard is a 2-Player Battle arena in Pikmin 2, and as its name suggests, it is a yard setting, similar to the second sublevel in Snagret Hole. An overturned bucket is in the middle of the stage, which can be used as shelter from the Decorated Cannon Beetles.
A glitch allows a leader to go out of bounds and steal the opponent's marble from behind. This is however, risky.
Level information
[
edit
]
Theme: Garden
Treasures:
Enemies:
Obstacles:
Plants and fungi:
Others:
Note: The previous object numbers were gathered from a very basic reading of the game's files. Research is currently underway to get more accurate numbers.
Technical information

Internal cave name
vs_7_nobinobi

(?)

Enemy maximum

40

(?)

Item maximum
0

(?)

Gate maximum
0

(?)

Dead end unit maximum
80

(?)

Number of rooms

3

(?)

Corridor-to-room ratio

0

(?)

Escape geyser
No

(?)

Clogged hole
No

(?)

Unit file

vs_7_kusachi.txt

(?)

Light file
vs_7_light.ini

(?)

Background
hiroba ( garden)
Cave units

(?)

Pattern 1

Large three-way crossing (×2)
Room with upside-down bucket (×1)
Dead end with item (×7)
Pattern 2

Large three-way crossing (×1)
Room with 5 exits (×1)
Room with 2 circling paths (×1)
Dead end with item (×4)
Long corridor (×3)
Turning corridor (×1)

Corridor (×1)
Pattern 3

Room with 2 circling paths (×2)
Large three-way crossing (×2)
Corridor (×4)
Dead end with item (×2)
Gallery
[
edit
]