Clog
Jump to navigation
Jump to search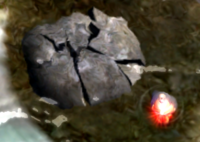 Since this subject has no official name, the name "clog" is conjectural.
A clog is an obstacle in Pikmin 2 and Hey! Pikmin that looks like a cracked rock and is used to block the entrance of caves and geysers, and to plug holes underwater so that areas remain flooded. They can be destroyed with Pikmin; often, only Blue Pikmin are able to approach them due to them being submerged. By destroying an underwater clog, a hole is opened up that drains the water from the surrounding area. However, clogs also appear on certain caves, and block the hole that leads to the next sublevel.
In Hey! Pikmin clogs are found very rarely, only appearing once in the whole game, in Below the Ice. It is actually solid dirt blocks, but they have the same role as a clog.
Locations
[
edit
]
Pikmin 2
Hey! Pikmin
Gallery
[
edit
]
See also
[
edit
]
References
[
edit
]
^ YouTube video showing the effects of entering a cave just before the clog cutscene begins
Obstacles

 Arachnode web •

 Bag •

 Bamboo gate •

 Bodies of water •

 Boulder •

 Bramble gate •

 Cardboard box (tin box) •

 Clog •

 Cobblestone block •

 Crystals •

 Crystal wall •

 Dam •

 Dirt block •

 Dirt wall •

 Electric gate •

 Electrical wire •

 Fire geyser •

 Flames •
 Gas pipe •

 Hydroe bramble •

 Ice wall •

 Iron block •

 Kingcap •

 Numbered gate •

 Paper bag •

 Reinforced wall •

 Spotcap •

 Switch gate •

 Trowel •

 Tunnel
Minor obstacles