Flower planting
Jump to navigation
Jump to search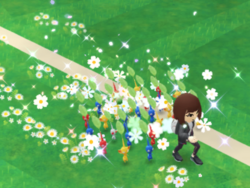 Flower planting is a game mechanic in Pikmin Bloom. When it is turned on, small flowers will be planted in a trail behind the player, and will appear on the map screen as the player walks around the real world. Planting flowers consumes petals of the type that is being planted. Planted flowers on the map are visible to all players.
Planted flowers are used to bloom Big Flowers. While within a Big Flower's radius, players can plant flowers in the circle to encourage growth and allow the Big Flower to bloom.
Having flower planting on also grows seedlings faster. If a player is planting flowers, seedlings will reach maturity faster with an automatic step-count bonus. Initially it starts with a 10% bonus and eventually reaches a maximum of 30% as the player's flowers are continually planted. In addition, expeditions will be found more frequently while walking around if flower planting is turned on.
Mechanics
[
edit
]
For the purposes of flower planting, the world is divided into a grid of cells of around 5 by 5 meters. These cells are aligned to the compass directions, so there are some disruptions to the grid to account for the curvature of the Earth. The cells are not shown to the player, but are used to calculate many features of flower planting. One flower can be planted in each cell, and once a flower is in a cell, another one cannot take its place until 5 minutes have passed. As a player walks with flower planting turned on, they will plant flowers in nearby grid cells. This will only happen if the player is moving less than 15 kilometers per hour, to prevent players from being able to plant lots of flowers from within a vehicle.
Not all flowers are rendered on the map screen. When flowers are directly adjacent to eachother, only some will be shown, and the density shown depends on how zoomed-in the camera is. A more zoomed-out camera will show less flowers, especially further away from the player. Flowers are also not rendered when they are on top of roads. However, all flowers, including non-rendered ones, are counted in the banner at the top of the screen that says how many flowers have been planted in a session.
During flower planting, flowers are set down around the player in a rectangular area, which is longer along the north-south axis. The size of the player's squad controls the size of this planting area. For every 10 Pikmin added to the squad, the rectangle will increase by one cell along both dimensions. The amount of petals consumed per minute will also increase along the same parameters, though this does not outweigh the benefits of increasing the planting area.
Big Flowers count the small flowers within their radii slightly differently to how the counter at the top of the screen counts them. The only practical difference is that the receptive planting area is slightly larger, and square.
| Pikmin in squad | Minimum level | Planting area | Big Flower planting area | Petals used per minute |
| --- | --- | --- | --- | --- |
| 1-9 | 1 | | | 2 |
| 10-19 | 10 | | | 3 |
| 20-29 | 20 | | | 4 |
| 30-39 | 40 | | | 5 |
| 40 | 60 | | | 6 |
With Others
[
edit
]
The following article or section is in need of assistance from someone who plays Pikmin Bloom.
Particularly: From what distance can players see one another?
The flower planting menu contains a setting that toggles the "With Others" mode. When a player is planting flowers in this mode, other players will be able to see that player's Mii and their squad walking around and planting flowers. This mode does not display player usernames, and is disabled for child accounts.
There are 5 badges the player can gain from flower planting:
Apprentice Flower Badge: Plant 1,000 flowers.
Novice Flower Badge: Plant 20,000 flowers.
Enthusiast Flower Badge: Plant 500,000 flowers.
Expert Flower Badge: Plant 1,600,000 flowers.
Master Flower Badge: Plant 3,000,000 flowers.
Apprentice Flower Badge. The badge shows a petal jar.

Novice Flower Badge. The badge shows a Big Flower.

Expert Flower Badge. The badge shows 3 Pikmin and several small flowers.

Master Flower Badge. The badge shows a Big Flower, 3 Pikmin, and several small flowers.
Gallery
[
edit
]
Screenshots
[
edit
]
Flower types
[
edit
]
To do: Replace the pansy and rose textures with higher quality versions.
Care to do so?
On the map, planted flowers are shown as 2D sprites that turn around to face the camera. The sprite depends on the type of flower.
| Color | Basic | Pansy | Rose | Poinsettia | Camellia | Plum blossom | Cherry blossom | Tulip | Carnation | Hydrangea | Lily | Sunflower | Spider Lily | Cosmos |
| --- | --- | --- | --- | --- | --- | --- | --- | --- | --- | --- | --- | --- | --- | --- |
| White | | | | | | N/A | | | | | | N/A | | |
| Red | | | | | | | N/A | | | | | N/A | | |
| Blue | | | | N/A | N/A | N/A | N/A | | | | N/A | N/A | N/A | N/A |
| Yellow | | | | N/A | N/A | N/A | N/A | | N/A | N/A | | | | |
History
[
edit
]
The following changes have been made to flower planting over time:
| Update or date | Changes |
| --- | --- |
| June 8th, 2022 | Doubled the rate of petal consumption while flower planting. Changed the planted flowers required per coin from 500 to 250. |
See also
[
edit
]