Mii
From Pikipedia, the Pikmin wiki
Jump to navigation
Jump to search
A Mii is a user-created avatar used in many Nintendo games since their introduction on the Wii system. They are generated through facial assets picked and arranged by the player, with some later systems allowing them to be generated through a photograph. These Miis are often used as the player's character in whichever game they are picked for, and are encouraged to be caricatures of the players themselves. There are some games that largely focus on Miis and allow them to express themselves without player input, most notably Tomodachi Life, Miitomo, Miitopia, and the Wii-branded games.
In Pikmin Bloom

[

edit

]
Mii characters appear in Pikmin Bloom. The player can create these Miis in the app or link a Mii from their MyNintendo accounts, and then dress them in a selection of outfits.
They play a similar role to leaders in the main series of games. As they walk around, they are followed by the squad of Pikmin, and the Mii also controls the whistle, sends Pikmin on expeditions, and controls flower planting. When observing the Pikmin squad in the garden screen, the camera changes to the Mii's perspective.
Like most games Miis are featured in, they simply serve as the player's avatar and do not act on their own or speak. Because of this, it's implied these are actually the player's actions expressed through the Mii and not the Mii themselves.
Mii customization
[
edit
]
Pikmin Bloom has a small Mii editor in the game. It only has a handful of choices for face style (which includes hairstyle, eye shape, eyebrow shape, nose shape, and mouth shape, and an option for skin color), hair color, eye color, and attire. If a MyNintendo account is linked, the Mii will use the appearance of the Mii tied to the account instead. MyNintendo account Miis have many more customization options, and can be created on a linked Nintendo system's Mii Maker app.
The following is a table of all options in Pikmin Bloom's inbuilt Mii creator.
| | | | | | | | | | | |
| --- | --- | --- | --- | --- | --- | --- | --- | --- | --- | --- |
| Face | | | | | | | | | | |
| Skin color | ㅤ | ㅤ | ㅤ | ㅤ | ㅤ | ㅤ | ㅤ | ㅤ | ㅤ | ㅤ |
| Hair color | ㅤ | ㅤ | ㅤ | ㅤ | ㅤ | ㅤ | ㅤ | ㅤ | | |
| Eye color | ㅤ | ㅤ | ㅤ | ㅤ | ㅤ | ㅤ | | | | |
Mii apparel
[
edit
]
The wardrobe of Mii clothes started with static combinations, but was changed in the 50.0 update to allow for more dynamic options.
Outfits
[
edit
]
These sets of clothing are prepared automatically, and use tops, bottoms, dresses, legwear, shoes, outerwear, and/or hats. The hat and shoes are not shown in the preview images.
Bottoms
[
edit
]
Dresses
[
edit
]
Legwear
[
edit
]
Outerwear
[
edit
]
History
[
edit
]
The following changes have been made to Miis over time:
| Update or date | Changes |
| --- | --- |
| Version 36.0 | Added a new costume based on the Bulborb. |
| June 27th, 2022 | Added 5 new "Explore printed T-shirt" costumes in different colors, available from the shop or weekly challenges. |
| July 8th, 2022 | Added 2 new striped shirt costumes, available from the shop. |
| July 11th, 2022 | Added 5 new "Flower Print T-shirt" costumes in different colors, available from the shop or weekly challenges. |
| July 29th, 2022 | Significantly changed attire options, so clothing items can be customized separately as well as in preset outfits. |
| August 4th, 2022 | Added new sunflower themed attire to the shop, including 2 tops, 2 bottoms, 2 dresses, 3 shoes, and 2 hats. |
| Sept. 15th, 2022 | Added new running attire to the shop, including 3 tops, 3 bottoms, 3 legwear, 3 shoes, 3 outerwear, and 3 hats. |
In Pikmin Adventure

[

edit

]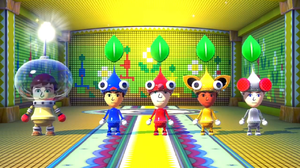 As with all games in Nintendo Land, Miis are the only playable characters, and they roleplay as the original characters from each game's respective franchise. They can also be found populating the hub world delivering various user-created messages from Miiverse.
In Pikmin Adventure, the first player's Mii (the player who holds the Wii U Gamepad) takes the role of Captain Olimar, who has a squad of Pikmin. Up to 4 subsequent players can become individual Pikmin. In ascending order, the players become Blue Pikmin, Red Pikmin, Yellow Pikmin and White Pikmin. The players are tasked to escape each level before time runs out while defeating Dark Monita's enemies. Like with the rest of Nintendo Land, however, the world and creatures are all fabricated for the Mii characters, much like a real world theme park.
See also
[
edit
]