Pikmin Bloom
Jump to navigation
Jump to search
Pikmin Bloom
App icon
Japanese name

ピクミン ブルーム

?
Console
iOS, Android
Developer
Niantic, Nintendo
Publisher
Niantic
Genre
Augmented reality
Players
1 player (online functionality)
Release date
Japan
November 1st, 2021
North America
October 28th, 2021
Europe
November 2nd, 2021
Australia
October 27th, 2021
South Korea
November 2nd, 2021
Pikmin Bloom is a spin-off game in the Pikmin series, released in 2021 for iOS and Android. It is an augmented-reality location-based game, co-developed by Niantic and Nintendo, with gameplay mechanics designed to encourage walking.
Gameplay
[
edit
]
Pikmin Bloom is a game about walking around the real world. By taking steps and playing the game in different locations, various kinds of in-game resources can be obtained, which allow incremental progress through the game. Because of this focus on moving around, the game requires the GPS in the mobile phone to be on, and it needs permission to use the phone's inbuilt step counter, either via Apple Health, Google Fit, or within the app on Android devices. The game also requires an account to play, and the account can be set up with using either a Nintendo account, a Google account, a Facebook account, a Niantic Kids account, or, on iOS devices only, an Apple account.
One of the main things that can be done in the game is growing and raising Pikmin. Pikmin in this game start their lives as seedlings, which can be obtained in various ways. Seedlings can be placed in slots in the Planter Pack, a backpack worn by the player's avatar. After walking some number of steps (either 100, 1000, 3000, 5000, or 10000, depending on the type of seedling), the seedling will be ready to be plucked, and plucking a seedling adds a Pikmin to the player's collection. Pikmin in this game can be individually named, and the location where each Pikmin was found can be viewed in a menu. Only a certain number of Pikmin can be in the player's squad at a time, with the rest being on standby.
Pikmin can do various things. They can be sent to collect items on expeditions, and sent to destroy mushrooms. Pikmin in the squad can be interacted with in the garden screen, where they can be fed nectar, blooming the flowers on their heads. The garden screen also has an augmented reality mode, which places the Pikmin on top of real-world objects seen through the phone's camera, and allows the player to take photos. By doing things with a Pikmin, its friendship can be increased. Once it reaches a high friendship level, the Pikmin can turn into a Decor Pikmin, a special status of Pikmin that wears a costume. The costume depends on where in the real world the Pikmin's seedling was found, encouraging the player to visit different kinds of locations.
Another main thing that can be done in Pikmin Bloom is gain flower-related resources. Various types of fruit appear in the game, and can be found on expeditions and also while walking around. When collected, fruits give the player some nectar. Nectar can be fed to Pikmin in the garden screen, which will cause their flowers to bloom; tapping the flowers will give the player petals. Petals are expended by doing flower planting, an activity that plants flowers on the map behind the player as they walk. And when flower planting is turned on, fruits are more likely to appear near the player. This loop of items that each contribute to obtaining the next one is the major part of the gameplay, and encourages the player to collect more nectar and petals, though there is a limit on how many of a resource can be held by the player at a time.
Being a location-based game, Pikmin Bloom has in-game objects at real-world points of interest. Big Flowers and mushrooms are spread around the world, and can be interacted with. Locations of these are viewable on a map centered around the player. This map shows some basic geography, points of interest near the player, flowers planted by players with the flower planting feature, and items obtainable through expeditions. As the player walks around, the Mii representing the player will move on the map and so will the squad of Pikmin following the Mii.
Pikmin Bloom's overall progression is slow, with new features being unlocked over time as the player's level increases. To go up a level, a defined set of tasks has to be completed, which can include things like walking some number of steps, growing some number of Pikmin, or planting some number of flowers. Some of the features unlocked over time are expeditions, mushroom challenges, the detector, and new types of Pikmin. The game's slow pace encourages not playing it constantly, but checking in on the app every few minutes on a walk to see how tasks are going and to see what's nearby. Over time, the player can also unlock badges by completing certain criteria.
The game has a number of features which allow multiple players to interact with each other. Flowers planted with the flower planting feature are visible to other players by default, and players anonymously collaborate over time to bloom Big Flowers, making the game a kind of multiplayer idle game. Mushrooms can be attacked by up to 5 people at once. There is a weekly challenge feature where players can collaborate to complete a certain goal together. Players can add other players as friends, and send postcards to them.
Pikmin Bloom encourages players to look back over their day with the lifelog feature. This shows the tasks the player has done in the app over time. At the end of the day, a daily lookback cutscene will occur, which shows where the player walked that day, and allows the player to write a short journal entry.
The game is free to download, but contains in-app purchases in the shop. Coins can be bought with real-world money to buy in-game items, though coins can also be obtained at a slow rate through flower planting. There are also various items that can only be bought with real-world money.
Content
[
edit
]
| | |
| --- | --- |
| | This article or section needs occasional editing to keep up with updates, and may be out-of-date as you read it. If you notice any outdated information, please edit the article to fix it. See here for more information. |
All seven main Pikmin types (Red Pikmin, Yellow Pikmin, Blue Pikmin, Purple Pikmin, White Pikmin, Winged Pikmin and Rock Pikmin) appear in Pikmin Bloom, each one unlocked at different levels. There is also a large collection of Pikmin donning some decoration, named Decor Pikmin.
Flowers
[
edit
]
Pikmin Bloom has several types of flowers, which appear in several different forms. The flowers on Pikmin heads, nectars, petals, and Big Flowers all come in different varieties for the different types of flowers. The following types of flowers appear in the game:
Normal (unnamed): The standard type of flower, resembling a Chaenostoma cordatum on Pikmin heads and a daisy as a Big Flower. Nectar of this type is obtainable by default from most nectar sources. Comes in white, red, blue, and yellow varieties.
Pansy: The first type of rare flower, available from the game's launch. Comes in white, red, blue, and yellow varieties.
Rose: Present at the game's launch, roses were originally a very rare type of flower, having a very low chance of being obtainable from Big Flowers when other rare flowers were planted around them. In May 2022, they were made into a regular type of rare flower, being obtainable normally from Big Flowers and later mushroom challenges. Comes in white, red, blue, and yellow varieties.
Poinsettia: Introduced on the December 2021 Community Day, where most Big Flowers would bloom into it. Comes in white and red varieties.
Camellia: Introduced on January 1st, 2022, and comes in white and red varieties.
Plum blossom: Introduced on February 11th, 2022, and originally came in a red variety only (the word "red" is not displayed in the menu), with a white variety added on February 1st, 2023.
Cherry blossom: Introduced on March 1st, 2022, and comes in a white variety only (the color is not displayed in the menu).
Tulip: Tulips were part of the game at launch, but they were only obtainable from the shop and didn't function properly as there was no tulip nectar at the time, so they were removed from the shop on November 30th, 2021. On April 1st, 2022, tulips were officially added to the game as a normal flower type, with a slightly different appearance. Comes in white, red, blue, and yellow varieties.
Carnation: Introduced on May 1st, 2022, and comes in white, red, and blue varieties.
Hydrangea: Introduced on June 1st, 2022, and comes in white, red, and blue varieties.
Lily: Introduced on July 1st, 2022, and comes in white, red, and yellow varieties.
Sunflower: Introduced on August 1st, 2022, and comes in a yellow variety only (the color is not displayed in the menu).
Spider Lily: Introduced on September 1st, 2022, and comes in white, red, and yellow varieties.
Cosmos: Introduced on October 1st, 2022, and comes in white, red, and yellow varieties.
Cyclamen: Introduced on December 1st, 2022, and comes in white, red, and blue varieties.
Daffodil: Introduced on January 1st, 2023, and comes in white and yellow varieties.
Windflower: Introduced on March 1st, 2023, and comes in white, red, blue, and yellow varieties.
Soundtrack
[
edit
]
Glitches
[
edit
]
Connection requirements
[
edit
]
| | |
| --- | --- |
| | This section is a stub. You can help Pikipedia by expanding it. |
Some of the game's features require the player to be connected to the internet.
Flower planting, be it for starting, stopping, consuming a petal, or for effectively planting a flower. The timer that starts when the player begins flower planting is based on the number of petals at the start, and will always decrease. This means that the timer may go down without the petals being decreased if the player is offline, and can even reach the end without the player emptying the jar.
Increasing the amount of steps and having their position registered in the map does not require an internet connection.
History
[
edit
]
Prerelease
[
edit
]
The app was announced on March 23rd, 2021, simultaneously by Nintendo and Niantic, on Twitter[1][2] and their own websites.[3][4] The initial announcements featured some basic information and a single image. Nintendo confirmed the title would be released in the second half of 2021 in its earnings release for the fiscal year ending March 31st, 2021.[5]
The game had a closed beta period, where people could sign up to receive information about the game and invitations to test the beta. Beta testing began in Singapore on March 30th, 2021[6] and expanded to Australia on April 19th.[7] The closed beta continued until the app's release.
Release
[
edit
]
On October 27th, 2021, the title of the app, Pikmin Bloom, was officially announced,[8][9] along with a promotional trailer,[10] and the app was released in Australia and Singapore. On October 28th, the app was released in the Americas.[11] On November 1st, the app was released in Japan.[12] On November 2nd, the app was released in most countries in Europe, Africa, Asia, the Middle East, and Oceania,[13][14] completing its rollout. The app received mostly positive reviews on the App Store and Google Play Store, though was criticized for its bugs.
Versions
[
edit
]
From time to time, there are special events in Pikmin Bloom, which add temporary boosts to the game's features. These include monthly Community Day events which challenge players to reach 10,000 steps in a day, as well as other events with different themes.
Gallery
[
edit
]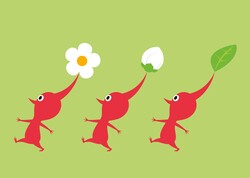 Pikmin Bloom is the first Pikmin game to be released in Portuguese, and the first to not have any enemies.
If a Nintendo account is linked to Pikmin Bloom, the player will receive a Huge Seedling that grows into a Blue Decor Pikmin with a Mario hat.
As of November 2, 2021, Pikmin Bloom is officially available in 180 markets, surpassing Super Mario Run as the most widely available Nintendo-related mobile game worldwide. Super Mario Run was originally available at most in 165 markets by March 2017, and has not launched in more markets since then. Additionally, Super Mario Run was delisted in Vietnam in 2020.
See also
[
edit
]
External links
[
edit
]
References
[
edit
]