Sprout
Jump to navigation
Jump to search
This article is a stub. You can help Pikipedia by expanding it.
Suggestions:


Add that Pikmin cannot be buried everywhere (particularly in Pikmin)
Document this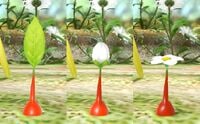 Sprouts are any underground Pikmin whose stems are poking out of the ground to be plucked. Most often, sprouts are the result of a seed that is ejected from Onions or Candypop Buds touching the ground.
Pikmin sprout
[
edit
]
After a seed has touched the ground, it will transform into a sprout. While it is almost an immediate process in Pikmin 2 and Pikmin 3, it takes roughly seven seconds in Pikmin. The player can also choose to leave Pikmin sprouts buried so that they can evolve into bud or flower Pikmin. The following is a list of ways to find a Pikmin sprout:
In caves in Pikmin 2, if some of the player's Pikmin are buried, the player will be warned when trying to leave the sublevel: if the player leaves without plucking those Pikmin, they will be lost and these are counted as deaths. If all of the player's Pikmin are buried, however, the player will not be able to proceed to the next sublevel or leave the cave. In Pikmin 4, sprouts left behind do not count as deaths and the cave can be continued as the game does not restrict players from exploring caves with no Pikmin.
Pikmin seed
[
edit
]
A Pikmin seed can be produced in several ways:
In Pikmin and Pikmin 2, all seeds look the same, changing only in color. In Pikmin 3, seeds are slightly different depending on the Pikmin type. Winged Pikmin seeds have stripes and are slightly smaller. White Pikmin seeds are also smaller. Purple Pikmin seeds are also slightly bigger, and Rock Pikmin seeds look like rocks.
Main article: Pluck.
Plucking is a mechanic that allows leaders to uproot a Pikmin sprout. In Pikmin, the Smoky Progg is also able to uproot nearby Pikmin by performing an attack. In Pikmin 2, if the player collects the Professional Noisemaker, they can also use their whistle to uproot Pikmin.
Special properties
[
edit
]
Pikmin seeds and sprouts have different properties from other Pikmin:
Gallery
[
edit
]
This article or section is in need of more images. Particularly:
Seed of each Pikmin type, and more images in general. Also search for artwork from here.
You can help Pikipedia by uploading some images.
Names in other languages
[
edit
]
Sprout

| Language | Name | Meaning |
| --- | --- | --- |
|  Spanish | Retoño | Sprout |

Seed

| Language | Name | Meaning |
| --- | --- | --- |
|  Spanish | Semilla | Seed |
See also
[
edit
]
References
[
edit
]
^ YouTube video showing it is impossible for a Mamuta to bury more than 99 Pikmin
^ YouTube video showing it is impossible for a Swooping Snitchbug to bury more than 99 Pikmin