Clockwork Chasm
From Pikipedia, the Pikmin wiki
Jump to navigation
Jump to search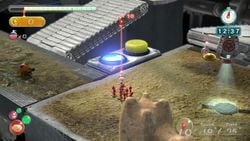 Clockwork Chasm is a map that was released in the third round of downloadable content for Pikmin 3. It features a metal or factory-like themed area, with multiple walls and elevated platforms. Its biggest gimmick is the inclusion of conveyor belts and switches. The conveyor belts push leaders and Pikmin around in a single direction. The switches change the direction the conveyor belts.
This article or section is a stub. You can help Pikipedia by expanding it.
Suggestions:


Add an Overview and Key sections sections, like on the area article policy.
Add guides.
List what maturity each Pikmin starts at on the infobox.
Collect Treasure!
[
edit
]
Objects
[
edit
]
Leaders
The order in Pikmin 3 is Olimar, Brittany, Louie. The order in Pikmin 3 Deluxe is Olimar, Brittany, Louie.
Pikmin
Enemies
Treasure
Obstacles
Battle Enemies!
[
edit
]
Objects
[
edit
]
Leaders
 Brittany (player 2's starting leader)
 Olimar (player 1's starting leader)
 Louie (only present when playing in co-op)
Starting Pikmin
Enemies
Obstacles
Others
World records
[
edit
]
These are the world records for the challenge, as obtained from the in-game global rankings feature. The following scores were retrieved on June 20th, 2016.
Gallery
[
edit
]
Brittany losing all her health.
If the overhead map is displayed from the right angle, and scrolled to the corners of the map, a metal chain-mesh fence can be seen surrounding the perimeter of the area on the TV screen.
This is the only Mission Mode stage to have bottomless pits.
Names in other languages
[
edit
]
Language
Name
Meaning
 Japanese
機械仕掛けのブルース?
Clockwork Blues
 French
Le blues du mécano
Blues of the mechanic
 German
Maschinenpark
Machine park
 Spanish (

NoE

)
Páramo Industrial
Industrial Moor