Cobblestone block
Jump to navigation
Jump to search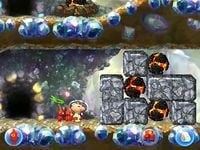 Since this subject has no official name, the name "Cobblestone block" is conjectural.
Cobblestone blocks are obstacles found in Hey! Pikmin, and are rectangular blocks of stone. They can only be destroyed by the explosion of a bomb rock. Their main purpose is to block the way, and they come in several sizes.
Locations
[
edit
]
The following article or section is in need of assistance from someone who plays Hey! Pikmin.
Particularly: Fill in the list.
Sparkling Labyrinth:
Ravaged Rustworks:
Leafswirl Lagoon:
Sweltering Parchlands:
Snowfall Field:
Lushlife Murk:
Gallery
[
edit
]
See also
[
edit
]
Obstacles

 Arachnode web •

 Bag •

 Bamboo gate •

 Bodies of water •

 Boulder •

 Bramble gate •

 Cardboard box (tin box) •

 Clog •

 Cobblestone block •

 Crystals •

 Crystal wall •

 Dam •

 Dirt block •

 Dirt wall •

 Electric gate •

 Electrical wire •

 Fire geyser •

 Flames •
 Gas pipe •

 Hydroe bramble •

 Ice wall •

 Iron block •

 Kingcap •

 Numbered gate •

 Paper bag •

 Reinforced wall •

 Spotcap •

 Switch gate •

 Trowel •

 Tunnel
Minor obstacles