Dirigibug family
Jump to navigation
Jump to search
The dirigibug family is a family of enemies in Pikmin 2, and is currently consisted of a single member, which is also the origin of the family's name, the Careening Dirigibug. All members belong to the Flotillium genus.
Members
[
edit
]
Careening Dirigibug
[
edit
]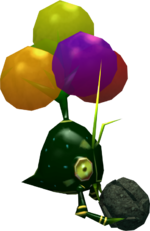 Main article: Careening Dirigibug.
Scientific name: Flotillium circusmaximus
The Careening Dirigibug is an enemy found only underground in Pikmin 2. It has five balloon-like appendages that keep it suspended in mid-air. When approached, it pulls a bomb-rock out of its mouth and after a while, drops it, where it instantly become active and begins counting down.
See more: Careening Dirigibug#Naming.
"Dirigibug" is a combination of "dirigible", referring to how the creature stays afloat using large balloon-like sacs, and the word "bug".
Names in other languages
[
edit
]
Language
Name
Meaning
 Japanese
オトシムシ科?
Otoshi mushi ka
Dropping bug family
 German
Torkler
Staggers
 Spanish (

NoA

)
Dirigibolios
Portmanteau of "dirigible" and "tribolios" (tribolium)
See also
[
edit
]
Families

Aerodentia •

Amphibiland •

Amphituber •

Arachnorb •

Armrakid •

Awrapnid •

Beeb •

Bloather •

Blowhog •

Breadbug •

Bubblimp •

Burrow-nit •

Candypop •

Centifly •

Centipare •

Chrysanthemum •

Clover •

Cottonade •

Crablipps •

Crawmad •

Creep-crab •

Crushblat •

Dandelfly •

Dandelion •

Dirigibug •

Dweevil •

Elips •

Fern •

Figwort •

Flint beetle •

Flitterbie •

Floaterbie •

Flobbler •

Flutterbie •

Foxtail •

Fuzzbuzz •

Glint beetle •

Glowcap •

Goolix •

Gourdfeather •

Grub-dog •

Heavil •

Honeywisp •

Horsetail •

Huntinpeck •

Hydroe •

Jellyfloat •

Jellyper •

Kettlebug •
Lithopod •

Mandiblard •

Mawdad •

Meerslug •

Mireclops •

Mitite •

Mockiwi •

Mollusking •

Numbouse •

Onionshell •

Pellet weed •

Pikmin •

Pinchipede •

Pinotta •

Polyocular slug •

Pricklepuff •

Scarab beetle •

Scarpanid •

Seedbag •

Sharpshell •

Shellcake •

Shellter •

Shellusk •

Skitterling •

Slooch •

Snareshell •

Snavian •

Snootwhack •

Snowswallow •

Spitterspatter •

Splurchin •

Sporovid •

Springjab •

Squirdler •

Squishsquirt •

Tusked blowhog •

Umbloda •

Unknown •

Whiskerpillar •

Wracknid