Honeywisp family
Jump to navigation
Jump to search
The honeywisp family (ミツムシ科?, lit.: "Nectar bug family") consists of only one known member – the eponymous Honeywisp.
Members
[
edit
]
Honeywisp
[
edit
]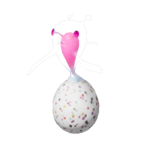 Main article: Honeywisp.
The Honeywisp is a gentle creature that merely floats in the air carrying either a blob of nectar (in Pikmin) or an egg (as of Pikmin 2). It cannot harm Pikmin, but it can appear and disappear quite quickly. If a thrown Pikmin touches it, it instantly drops its nectar or egg and flies away.
Names in other languages
[
edit
]
Language
Name
Meaning
Notes
 Japanese
ミツムシ科?
Mitsu mushi ka
Nectar bug family
 French
mouchamiels
From "mouche à miel" (literally "honey fly", but meaning "honey bee")
 Spanish (

NoA

)
Agarramieles
From "agarramiel" (honeywisp)
 Portuguese
Levanectarídeos
From "levar" (to take) and "néctar" (nectar)
 Portuguese (

NoA

)
Levanectarídeos
From "levar" (to take) and "néctar" (nectar)
Families

Aerodentia •

Amphibiland •

Amphituber •

Arachnorb •

Armrakid •

Awrapnid •

Beeb •

Bloather •

Blowhog •

Breadbug •

Bubblimp •

Burrow-nit •

Candypop •

Centifly •

Centipare •

Chrysanthemum •

Clover •

Cottonade •

Crablipps •

Crawmad •

Creep-crab •

Crushblat •

Dandelfly •

Dandelion •

Dirigibug •

Dweevil •

Elips •

Fern •

Figwort •

Flint beetle •

Flitterbie •

Floaterbie •

Flobbler •

Flutterbie •

Foxtail •

Fuzzbuzz •

Glint beetle •

Glowcap •

Goolix •

Gourdfeather •

Grub-dog •

Heavil •

Honeywisp •

Horsetail •

Huntinpeck •

Hydroe •

Jellyfloat •

Jellyper •

Kettlebug •
Lithopod •

Mandiblard •

Mawdad •

Meerslug •

Mireclops •

Mitite •

Mockiwi •

Mollusking •

Numbouse •

Onionshell •

Pellet weed •

Pikmin •

Pinchipede •

Pinotta •

Polyocular slug •

Pricklepuff •

Scarab beetle •

Scarpanid •

Seedbag •

Sharpshell •

Shellcake •

Shellter •

Shellusk •

Skitterling •

Slooch •

Snareshell •

Snavian •

Snootwhack •

Snowswallow •

Spitterspatter •

Splurchin •

Sporovid •

Springjab •

Squirdler •

Squishsquirt •

Tusked blowhog •

Umbloda •

Unknown •

Whiskerpillar •

Wracknid