Shellcake family
Jump to navigation
Jump to search
The shellcake family is a family of mollusc-like enemies introduced in Pikmin 4. Members belong to the conchcrustus genus.
Members
[
edit
]
Freezecake
[
edit
]
Main article: Freezecake.
Scorchcake
[
edit
]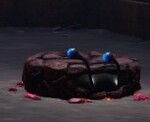 Main article: Scorchcake.
The Scorchcake is an enemy found in Pikmin 4. It will rotate 90 degrees, and then rotate another 90 degrees in an attempt to crush Pikmin. It has a side on its body which is firey, and any non-Red Pikmin or Oatchi will be burned if they touch it. Its body is soft, however, and can be damaged by regular Pikmin attacks.
Shockcake
[
edit
]
Main article: Shockcake.
The name shellcake comes from the family members' shell shape, which resemble some types of cakes.
The genus conchcrustus is named after the real-life conch mollusk, and crust, or crustae, a latin root word meaning shell.
Names in other languages
[
edit
]
The following article or section is in need of assistance from someone who plays Pikmin 4.
Particularly: Record the names and their meanings.
Language
Name
Meaning
Notes
 Japanese
オオバンガイ科?
Ooban gai ka
Ōban-yaki shellfish family
 French
carapacrêpes
The name is a portmanteau of "carapace" (shell) and "crêpes" (crepes)
 German
Krustenkuchen
 Portuguese
Caraboloídeos
Snaicakidae
The name is a portmanteau of "caracol" (snail) and "bolo" (cake) and the suffix "-ídeos" (-idae), which is used for naming animal family names
See also
[
edit
]
Families

Aerodentia •

Amphibiland •

Amphituber •

Arachnorb •

Armrakid •

Awrapnid •

Beeb •

Bloather •

Blowhog •

Breadbug •

Bubblimp •

Burrow-nit •

Candypop •

Centifly •

Centipare •

Chrysanthemum •

Clover •

Cottonade •

Crablipps •

Crawmad •

Creep-crab •

Crushblat •

Dandelfly •

Dandelion •

Dirigibug •

Dweevil •

Elips •

Fern •

Figwort •

Flint beetle •

Flitterbie •

Floaterbie •

Flobbler •

Flutterbie •

Foxtail •

Fuzzbuzz •

Glint beetle •

Glowcap •

Goolix •

Gourdfeather •

Grub-dog •

Heavil •

Honeywisp •

Horsetail •

Huntinpeck •

Hydroe •

Jellyfloat •

Jellyper •

Kettlebug •
Lithopod •

Mandiblard •

Mawdad •

Meerslug •

Mireclops •

Mitite •

Mockiwi •

Mollusking •

Numbouse •

Onionshell •

Pellet weed •

Pikmin •

Pinchipede •

Pinotta •

Polyocular slug •

Pricklepuff •

Scarab beetle •

Scarpanid •

Seedbag •

Sharpshell •

Shellcake •

Shellter •

Shellusk •

Skitterling •

Slooch •

Snareshell •

Snavian •

Snootwhack •

Snowswallow •

Spitterspatter •

Splurchin •

Sporovid •

Springjab •

Squirdler •

Squishsquirt •

Tusked blowhog •

Umbloda •

Unknown •

Whiskerpillar •

Wracknid