Dandelfly family
Jump to navigation
Jump to search
The dandelfly family is a family of peaceful dragonfly-like enemies introduced in Pikmin 3 Deluxe. It has one member, the Nectarous Dandelfly.
All members of this family are in the Anisopterid genus.
Members
[
edit
]
Nectarous Dandelfly
[
edit
]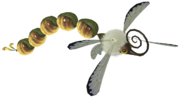 Main article: Nectarous Dandelfly.
Scientific name: Anisopterid ambrosius
The Nectarous Dandelfly is a harmless enemy in Pikmin 3. It hovers in the air until it is hit with a Pikmin, at which point it flies off and leaves multiple drops of nectar.
"Dandelfly" is a combination of "dandle", which means "gently rock up and down", and "damselfly", since it is a family of bugs that gently move up and down while flying.
Names in other languages
[
edit
]
The following article or section is in need of assistance from someone who plays Pikmin 3 Deluxe.
Particularly: Record the names and their meanings.
Language
Name
Meaning
 Japanese
ミツモチヤンマ科?
Mitsu Mochi Yanma Ka
Nectar holding dragonfly family
 Chinese
(traditional)
蜜蟲晏蜓科
 French
nectiloptéres
From nectar (nectar) and the suffix -ptère (-ptera)
 German
Schwebellen
 Korean
꿀벌레잠자리 과
 Spanish
Nectarópteros
See also
[
edit
]
Families

Aerodentia •

Amphibiland •

Amphituber •

Arachnorb •

Armrakid •

Awrapnid •

Beeb •

Bloather •

Blowhog •

Breadbug •

Bubblimp •

Burrow-nit •

Candypop •

Centifly •

Centipare •

Chrysanthemum •

Clover •

Cottonade •

Crablipps •

Crawmad •

Creep-crab •

Crushblat •

Dandelfly •

Dandelion •

Dirigibug •

Dweevil •

Elips •

Fern •

Figwort •

Flint beetle •

Flitterbie •

Floaterbie •

Flobbler •

Flutterbie •

Foxtail •

Fuzzbuzz •

Glint beetle •

Glowcap •

Goolix •

Gourdfeather •

Grub-dog •

Heavil •

Honeywisp •

Horsetail •

Huntinpeck •

Hydroe •

Jellyfloat •

Jellyper •

Kettlebug •
Lithopod •

Mandiblard •

Mawdad •

Meerslug •

Mireclops •

Mitite •

Mockiwi •

Mollusking •

Numbouse •

Onionshell •

Pellet weed •

Pikmin •

Pinchipede •

Pinotta •

Polyocular slug •

Pricklepuff •

Scarab beetle •

Scarpanid •

Seedbag •

Sharpshell •

Shellcake •

Shellter •

Shellusk •

Skitterling •

Slooch •

Snareshell •

Snavian •

Snootwhack •

Snowswallow •

Spitterspatter •

Splurchin •

Sporovid •

Springjab •

Squirdler •

Squishsquirt •

Tusked blowhog •

Umbloda •

Unknown •

Whiskerpillar •

Wracknid