Burrow-nit family
From Pikipedia, the Pikmin wiki
Jump to navigation
Jump to search
The burrow-nit family is a family of creatures that partially burrow themselves into the ground before attacking, introduced in Pikmin 2. Members are known for their mosquito-like proboscis, weak hides, and ability to disguise themselves with their decorative shells. Members belong to the genus Trilobitens.
Members
[
edit
]
Cloaking Burrow-nit
[
edit
]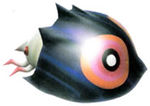 The Cloaking Burrow-nit is an enemy in Pikmin 2. This predator features a hard shell with eye-like markings covering its backside, leaving its face exposed. It burrows under the earth with its shell aboveground, and when prey get near, it unburrows and attempts to stab them with its proboscis.
Flighty Joustmite
[
edit
]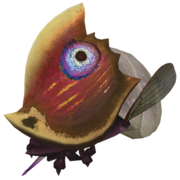 The Flighty Joustmite is an enemy in Pikmin 3. It is identical in appearance to a regular Joustmite, but has a red colored shell and small wings with which it can fly in the air. Because of this, it can stab downward, and occasionally its proboscis can get stuck in the ground. Its weak point is on the back of its shell as well. Rock Pikmin are immune to being stabbed with its proboscis.
Joustmite
[
edit
]
The Joustmite is an enemy exclusive to Pikmin 3. Its weak point is behind it, while the weak point of the Cloaking Burrow-nit is the face. Its stabbing attack is useless against Rock Pikmin.
The family is named after its first documented member, the Cloaking Burrow-nit. Members all have hides resembling a cloak and a tendency to burrow under the ground. "Nit" is a name given to the head louse, a real-life insect.
The genus Trilobitins is in reference to the prehistoric arthropods known as "trilobites". Members most resemble horseshoe crabs. In case of the Cloaking Burrow-nit, it would be a "backwards" horseshoe crab, with its proboscis in the spot of a horseshoe crab's tail, and fake eyes in the spot where the real eyes and face would be on a horseshoe crab.
Names in other languages
[
edit
]
Language
Name
Meaning
 Japanese
ハオリムシ科?
Haori Mushi Ka
Haori insect family
 French
fouisseurs
burrowers
 Spanish
Exacavarópteros
From escavar (digging) and possibly helicóptero (helicopter)
See also
[
edit
]
Families

Aerodentia •
Amphituber •

Arachnorb •

Awrapnid •

Beeb •

Bloather •

Blowhog •

Breadbug •

Bubblimp •

Burrow-nit •
Candypop •

Centifly •

Centipare •

Chrysanthemum •

Cottonade •

Clover •

Crawmad •

Creep-crab •

Crushblat •

Dandelfly •

Dandelion •

Dirigibug •

Dweevil •

Elips •

Fern •

Figwort •

Flint beetle •

Flint bug •

Flitterbie •

Flutterbie •

Floaterbie •

Flobbler •

Foxtail •

Fuzzbuzz •

Glint beetle •

Glowcap •

Grub-dog •

Heavil •
Honeywisp •

Horsetail •

Huntinpeck •

Hydroe •

Jellyfloat •

Jellyper •

Kettlebug •

Lithopod •

Mandiblard •

Mawdad •

Meerslug •

Mireclops •

Mollusking •

Numbouse •

Onionshell •

Pellet weed •

Pikmin •

Pinotta •

Scarab beetle •

Scarpanid •

Seedbag •

Shellter •

Shellusk •

Skitterling •

Slooch •

Snavian •

Spitterspatter •

Splurchin •

Sporovid •

Squirdler •

Unknown •

Whiskerpillar •

Wracknid