Pinchipede family
From Pikipedia, the Pikmin wiki
Jump to navigation
Jump to search
The pinchipede family is a family of bosses exclusive to the uncannon Pikmin Adventure. It consists of centipede-like creatures with many different body segments, each with a purple orb that can be attacked, and two mandibles that can harm players. It only has two members, with one being much harder than the other.
Members
[
edit
]
Emperor Pinchipede
[
edit
]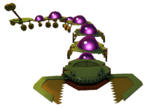 The Emperor Pinchipede is a green pinchipede with a red underside in the main stages of Pikmin Adventure.
Monochromatic Pinchipede
[
edit
]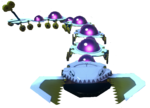 The Monochromatic Pinchipede is a white pinchipede with a black underside exclusive to the challenge stages of Pikmin Adventure.
"Pinchipede" is the name that each member of the family has, right after another word. It is a conjunction of "pinch", referring to its pincers and pinch attacks, and "centipede", the real life creature members of the family seem to be based on.
Names in other languages
[
edit
]
The following article or section is in need of assistance from someone who plays Pikmin Adventure.
Particularly: fill in the table.
Language
Name
Meaning
 Japanese
ハサミムカデ科?
Hasami Mukade Ka
Scissors centipede family
See also
[
edit
]
Families

Aerodentia •
Amphituber •

Arachnorb •

Awrapnid •

Beeb •

Bloather •

Blowhog •

Breadbug •

Bubblimp •

Burrow-nit •
Candypop •

Centifly •

Centipare •

Chrysanthemum •

Cottonade •

Clover •

Crawmad •

Creep-crab •

Crushblat •

Dandelfly •

Dandelion •

Dirigibug •

Dweevil •

Elips •

Fern •

Figwort •

Flint beetle •

Flint bug •

Flitterbie •

Flutterbie •

Floaterbie •

Flobbler •

Foxtail •

Fuzzbuzz •

Glint beetle •

Glowcap •

Grub-dog •

Heavil •
Honeywisp •

Horsetail •

Huntinpeck •

Hydroe •

Jellyfloat •

Jellyper •

Kettlebug •

Lithopod •

Mandiblard •

Mawdad •

Meerslug •

Mireclops •

Mollusking •

Numbouse •

Onionshell •

Pellet weed •

Pikmin •

Pinotta •

Scarab beetle •

Scarpanid •

Seedbag •

Shellter •

Shellusk •

Skitterling •

Slooch •

Snavian •

Spitterspatter •

Splurchin •

Sporovid •

Squirdler •

Unknown •

Whiskerpillar •

Wracknid