Foxtail family
From Pikipedia, the Pikmin wiki
Jump to navigation
Jump to search
The foxtail family is a family of plants in Pikmin 2, and contains a single member, the eponymous Foxtail. It is based on the real-life poaceae family, which includes most grass and bamboo species.
Members
[
edit
]
Foxtail
[
edit
]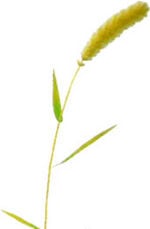 Main article: Foxtail.
The Foxtail is a plant found in the Valley of Repose, the Wistful Wild, and the Sniper Room. It is only used as decoration, and is considerably large in size.
Names in other languages
[
edit
]
Language
Name
Meaning
 Japanese
イネ科?
Ine Ka
Poaceae
See also
[
edit
]
Families

Aerodentia •
Amphituber •

Arachnorb •

Awrapnid •

Beeb •

Bloather •

Blowhog •

Breadbug •

Bubblimp •

Burrow-nit •
Candypop •

Centifly •

Centipare •

Chrysanthemum •

Cottonade •

Clover •

Crawmad •

Creep-crab •

Crushblat •

Dandelfly •

Dandelion •

Dirigibug •

Dweevil •

Elips •

Fern •

Figwort •

Flint beetle •

Flint bug •

Flitterbie •

Flutterbie •

Floaterbie •

Flobbler •

Foxtail •

Fuzzbuzz •

Glint beetle •

Glowcap •

Grub-dog •

Heavil •
Honeywisp •

Horsetail •

Huntinpeck •

Hydroe •

Jellyfloat •

Jellyper •

Kettlebug •

Lithopod •

Mandiblard •

Mawdad •

Meerslug •

Mireclops •

Mollusking •

Numbouse •

Onionshell •

Pellet weed •

Pikmin •

Pinotta •

Scarab beetle •

Scarpanid •

Seedbag •

Shellter •

Shellusk •

Skitterling •

Slooch •

Snavian •

Spitterspatter •

Splurchin •

Sporovid •

Squirdler •

Unknown •

Whiskerpillar •

Wracknid