Paper bag
Jump to navigation
Jump to search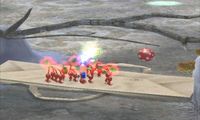 This article or section is in need of more images. Particularly:
Add a second main image, with the Pikmin 3 look.
You can help Pikipedia by uploading some images.
Paper bags are two different types of obstacles in Pikmin 2 and Pikmin 3. They stand as obstacles in pathways; in Pikmin 2, they need to be compressed to open up the areas past them, while in Pikmin 3 they must be pushed off a ledge and serve as a ramp when they drop.
Pikmin 2

[

edit

]
Paper bags in Pikmin 2 resemble plain brown grocery bags that compress and expand using their bellows-like sides. They appear upside-down and slightly compressed, but can be squashed completely by throwing Pikmin on top of the bag so that it is weighed down. Different bags need different weight in order to fully succumb, and until that weight requirement is met, the bag will not change size at all. Purple Pikmin, of course, weigh ten, and Pikmin of other types weigh one. The first paper bag is found on the first day of Pikmin 2, where Captain Olimar and Louie must flatten it to reunite.
The small symbol found on top of the paper bags, the word 紙? (lit.: "Paper") inside a stylized ellipse, is used in Japan to represent paper recycling.[1]
According to game files, paper bags are in fact a seesaw block with a different appearance and nothing to push it back up.[source needed]
Pikmin 3

[

edit

]
In Pikmin 3, paper bags appear as blue shopping bags. Their opening is closed, meaning that the bags form a triangular shape from their base to their top. These bags are found lying on their side, which means their rectangular bases act as walls, and their slanted sides act as ramps. These are always found with their opening facing a ledge, and they need to be pushed off of it from their base. When they fall down, they act as ramps to the tunnel they were pushed from, serving as shortcuts. All paper bags require 10 Pikmin to push them, minimum. Once they begin pushing it, a cutscene plays; this happens for all paper bags. Pikmin standing below the ledge a bag is pushed from will not be crushed by it; instead they will just be pushed out of the way.
Locations
[
edit
]
Pikmin 2

[

edit

]
Pikmin 3

[

edit

]
Pikmin 3 Deluxe

[

edit

]
Names in other languages
[
edit
]
Language
Name
Meaning
 Japanese
紙袋?
Kamibukuro
Paper bag
 Italian
Sacchetto di carta
Paper bag
 Spanish (

NoA

)
Bolsa de papel
Paper bag
Gallery
[
edit
]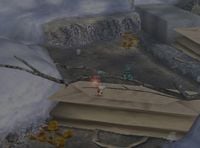 See also
[
edit
]
References
[
edit
]
Obstacles

 Arachnode web •

 Bodies of water •

 Boulder •

 Burgeoning Spiderwort mold •

 Cardboard box (tin box) •

 Clog •

 Cobblestone block •

 Crystals •

 Dam •

 Dirt block •

 Electrical wire •

 Fire geyser •

 Flames •
 Gas pipe •

 Gates and walls •

 Hydroe bramble •

 Iron block •

 Kingcap •
 Paper bag •

 Spotcap •

 Trowel •

 Tunnel
Minor obstacles