Reinforced wall
Jump to navigation
Jump to search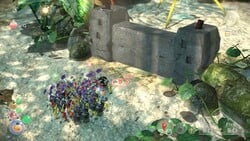 Reinforced walls (also known as rock gates[1] or stone gates[2]) are gates that can only be destroyed with bomb rocks. Pikmin cannot break these stone walls on their own; if they are directed to the wall, they will just tap their stems at them for a bit, before sighing and giving up.
In Pikmin 3 and Pikmin 4, three bomb rocks are required to destroy a reinforced wall (except for one wall in the Battle Enemies! version of Clockwork Chasm that only requires one bomb rock). In Pikmin, there are three types of reinforced wall: white walls require three bomb rocks, grey walls require six, and black walls require nine.
In Pikmin 3, reinforced walls seem to be made out of concrete, as pieces of rebar can be seen sticking out of the top. In Pikmin 3 Deluxe, most of these walls have a design featuring thin white lines in the shape of Olimar and some Pikmin.
Locations
[
edit
]
Pikmin
Pikmin 3
Pikmin 4
The following article or section is in need of assistance from someone who plays Pikmin 4.
Particularly: Document locations.
Gallery
[
edit
]
Names in other languages
[
edit
]
Language
Name
Meaning
 Japanese
鉄筋のカべ?
Tekkin no Kabe
Reinforced concrete wall
 Spanish
Muro reforzado
Reinforced wall
See also
[
edit
]
References
[
edit
]
^

"

Only bomb-rocks can destroy rock gates, and only yellow Pikmin can carry the explosives.

"

– The Forest of Hope section 4-C "Blasting the Wall" in the Pikmin Nintendo Player's Guide
^ NEW PLAY CONTROL! Pikmin on Nintendo.co.uk
Obstacles

 Arachnode web •

 Bag •

 Bamboo gate •

 Bodies of water •

 Boulder •

 Bramble gate •

 Cardboard box (tin box) •

 Clog •

 Cobblestone block •

 Crystals •

 Crystal wall •

 Dam •

 Dirt block •

 Dirt wall •

 Electric gate •

 Electrical wire •

 Fire geyser •

 Flames •
 Gas pipe •

 Hydroe bramble •

 Ice wall •

 Iron block •

 Kingcap •

 Numbered gate •

 Paper bag •

 Reinforced wall •

 Spotcap •

 Switch gate •

 Trowel •

 Tunnel
Minor obstacles