Electric gate
Jump to navigation
Jump to search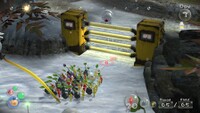 Electric gates are gates that carry an electric current. As such, Pikmin that are not Yellow Pikmin cannot touch them, under the risk of death (Pikmin 2), temporary paralysis (Pikmin 3), or a combination of both (Pikmin 4). Other than that, they can be taken down just like any other type of gate.
In Pikmin 2, they resemble a fence made of metal, and sink to the ground as they take damage. All electric gates have exactly 16000 hit-points.
In Pikmin 3, they are made of four fluorescent lamps laid horizontally on top of one another, with each lamp breaking down (and becoming harmless) at each stage of destruction. When the gate is finally opened, all lamps explode. Pikmin cannot grab on to this type of gate – they can only attack from the ground. Bomb rocks cannot be used to damage these gates. In Pikmin 3 Deluxe, some electric gates have additional black stripes on them, and there are 4 variants of gates: one with no black stripes, one with 2 horizontal black stripes on each pillar, one with a vertical black stripe on each pillar, and one with diagonal black stripes on each pillar.
In Pikmin 4, they retain a similar appearance to what is depicted in Pikmin 3, now only having three fluorescent lamps instead of four. Oatchi is able to take one down if he has the Anti-Electrifier, and like with dirt walls, he can cause a lot of damage by rushing against them. Glow Pikmin can also attack electric gates.
Locations
[
edit
]
Pikmin 2
Pikmin 3
Pikmin 4
The following article or section is in need of assistance from someone who plays Pikmin 4.
Particularly: Document locations.
Hey! Pikmin
Ravaged Rustworks

Pollution Pool: The only two electric gates in the game appear here. The first one is near the beginning, and can be taken down quickly. The second is right before the end of the level. Because Yellow Pikmin can't be brought underwater, and they are needed to break the gate, the player must complete a bridge with Blue Pikmin.
Gallery
[
edit
]
See also
[
edit
]
Obstacles

 Arachnode web •

 Bag •

 Bamboo gate •

 Bodies of water •

 Boulder •

 Bramble gate •

 Cardboard box (tin box) •

 Clog •

 Cobblestone block •

 Crystals •

 Crystal wall •

 Dam •

 Dirt block •

 Dirt wall •

 Electric gate •

 Electrical wire •

 Fire geyser •

 Flames •
 Gas pipe •

 Hydroe bramble •

 Ice wall •

 Iron block •

 Kingcap •

 Numbered gate •

 Paper bag •

 Reinforced wall •

 Spotcap •

 Switch gate •

 Trowel •

 Tunnel
Minor obstacles